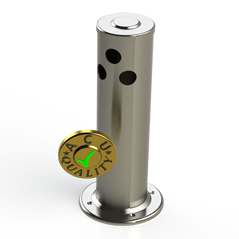 Economy Draft Arm 3" X 12" | 3 Faucet Draft Beer Tower Column Tower S/S # 6
SKU:
ECON-0803-12
Secured & Safe Checkout :
"Economy" Draft Arm 3" X 12" Tall | 3 Faucet Hole Draft Beer Tower Column Tower S/S # 6
 *Please allow up to 2 weeks for this product to ship* 
This Draft Arm (Draft Beer Tower) is a 3" X 12" Tower in Stainless Steel #6 Brushed Finish. The removable cap makes it easy to assemble. The flanges are welded to the tubing. The flanges have 4 countersunk holes for mounting. This is our Economy Model that is a popular seller that is still made of good quality. Our standard Draft Beer Column Tower can be found online as well (our standard tower has the seamless joint) this tower does not. This column tower is for three faucets of draft beer.
Stainless Steel # 6 Finish

Made in the USA!

Draft beer Column towers are a perfect solution for your home bar
We offer a rush order for products with 2 or 3 week lead times. If your lead time in green/red meets those requirements, please add the rush charge. The rush charge is 60% of the cost of each product. If you choose this option, the order will have a 7 working day in process lead time.
If your product has a 1-2 day lead time, this means your product is in stock or can be made quickly and will ship within 1-2 days. A rush order for 1-2 day products is not necessary. 
If the rush order does not appear in the cart, then the rush order option is not available online. We may still offer it for phone orders if you call us at 951-943-1495. One of the reasons for the rush order to be turned off is our work/order volume is too high or metal demands. 
Remember you must still choose the best shipping option for you. A rush charge does not mean the shipping will be expedited.
If you have any other questions, please contact us.
We believe in bringing the best prices available to the draft beer industry. Our products are 100% made in the USA and they are built out of metal. Metal is heavy compared to a lot of objects that get shipped. We have discounted rates through our shipping providers by ShipStation and through our company profile. Our shipping rates are calculated through ShipStation when an order is placed online.
If you believe you have a shipping method, or way to get a label cheaper, we will be more than happy to use that label you create and refund your money for the shipping paid for through your credit card.
Custom order shipping costs will be discussed prior to shipment packaging, to ensure your deadline is met.
If you have any other questions, please contact us.
This tower is awesome!
Amanda is amazing! She made sure my tower got here in time for my annual After Thanksgiving Party. Check out the pictures! Sorry I don't know why they keep turning side ways.
Very nice draft tower
Tower works as expected, and looks great. The faucet holes may be a little too close together which makes tightening a little challenging, but overall a good product.
---